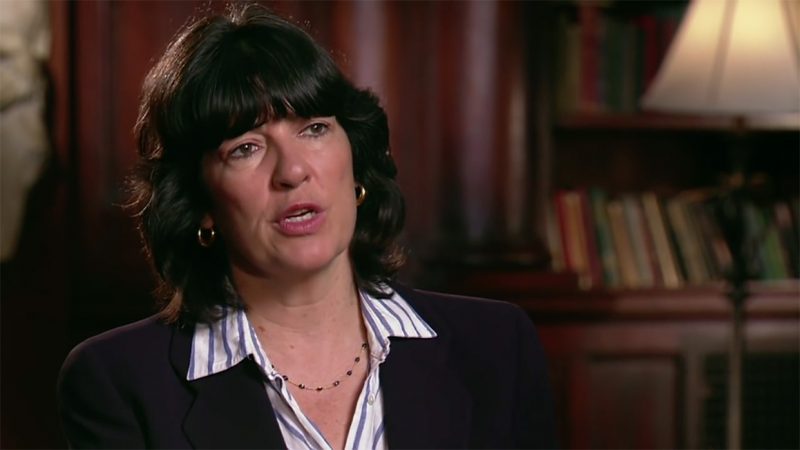 As the chief international correspondent for CNN, Christiane Amanpour has covered war and genocide in the Balkans, Africa and Iraq. Amanpour has spent more than 25 years reporting for CNN and has interviewed numerous world leaders. The award-winning journalist also contributed to the CBS program "60 Minutes" and served as moderator of ABC News' "This Week." Several documentaries and in-depth specials have earned her the highest rewards in broadcasting.
Videos
Christiane Amanpour put a spotlight on the question of journalists' objectivity during the Bosnian War from 1992 to 1996 when she filed reports for CNN about the bombing of Sarajevo by the Serbian army.
The ABC News and CNN correspondent Christiane Amanpour talks about how the American media failed to question President George W. Bush's justifications for going to war with Iraq.
Career Timeline
1979
Moving to the United States from Britain and Iran, Amanpour attends the University of Rhode Island and works at WBRU radio as a reporter, anchor and producer. She also works with NBC affiliate WJAR-TV as an electronic graphics designer.
1983
After graduating summa cum laude with a bachelor's degree in journalism, Amanpour lands a job as an assistant on CNN's international assignment desk in Atlanta. Amanpour's first boss told her she would never make it, but she elbows her way in, taking positions that other people didn't want and repeatedly making her on-air ambitions clear to her superiors. After strong persistence, Amanpour moves to New York and takes a temporary on-air correspondent position.
1985
Amanpour's contribution to the four-week series "Iran: In the Name of God" helps CNN win its first DuPont Award.
1990
With the fall of the Berlin Wall and change occurring across Central Europe, Amanpour moves to the Frankfurt bureau and covers the shifts in the region as a CNN foreign correspondent.
When Iraq invades Kuwait, Amanpour quickly arranges for a trip to the site with her crew and heads to Kuwait to cover the Persian Gulf War. She stays for five months.
1991
Amanpour covers the breakup of the Soviet Union as well as the subsequent conflict in Georgia.
1992
Amanpour reports on the war in Bosnia but is criticized by some for a perceived lack of objectivity in coverage. Amanpour repeatedly stresses that being objective, as her critics saw it, would mean being complicit to genocide. She and others attempt to debunk the assumption that each side was equally complicit in the region's atrocities.
Later in the year, Amanpour leaves Bosnia to report from Mogadishu as the UN begins its intervention in Somalia following the first phase of the civil war there .
1994
Amanpour goes to Rwanda in the wake of mass genocide and reports on the refugee crisis at the Zaire border and elsewhere. She has called the carnage there the worst she's ever seen.
Later in the year, as American troops invade Haiti with UN sanction and return Jean-Bertrand Aristide to the presidency, Amanpour covers the events over a key span of months.
1996
Amanpour signs a contract to deliver quarterly stories for "60 Minutes" in addition to her ongoing role as senior international correspondent at CNN. She works with the CBS program for more than a decade.
Amanpour reports from Afghanistan with a well-received documentary, "The Battle for Afghanistan," in which she explains who the Taliban are and what kind of societal changes are taking place in the country under their leadership.
1999
Amanpour is the last journalist to interview King Hussein of Jordan before his death, as well as the first to interview his son, King Abdullah.
2000
The documentary "Revolutionary Journey" brings Amanpour back to Tehran, where she reports in a reflective manner on the changes going on in Iran with the election of President Mohammad Khatami . Also interviewing Khatami, Amanpour uses the experience of her own past to depict the change and interviews her father, touring their old house. Her reports mostly focus on the potential for the new wave of a youthful, revolutionary movement budding within Iran at this time.
2001
Among other topics, Amanpour returns to the storyline of the Bosnian war in covering the war crime trials of Slobodan Milosevic, the former president of Serbia and Yugoslavia, at The Hague.
For another documentary for CNN, "The Struggle for Islam," Amanpour wins multiple awards including the Edward R. Murrow Award for Distinguished Achievement in Broadcast Journalism.
2005
Having reported on the Middle East extensively, Amanpour covers the first trial of Saddam Hussein .
In July she reports on the London subway bombings. Returning to the United States, she covers the aftermath of Hurricane Katrina.
2006
Her CNN documentary "Where Have All the Parents Gone?" looks at the hardships faced by more than one million AIDS orphans in Kenya.
Producing more long-form, documentary journalism, Amanpour presents " In the Footsteps of bin Laden ." The award-winning documentary examines the life of Osama bin Laden from a young age, going back to his native Saudi Arabia and talking to people who knew or had met him at various stages of his life.
2007
Focusing attention on religion, Amanpour presents " God's Warriors ," a three-part series focusing on the radical strains of Judaism, Islam and Christianity. She also presents " The War Within ," which examines the community of young Muslims in Britain.
2008
After years of being based in London, Amanpour moves to New York. Traveling to Europe, Africa and Asia for her next documentary, " Scream Bloody Murder ," Amanpour reports on the perspective of the people who have tried to stop genocide around the world and the barriers each met from those in power.
2009
CNN International produces " Amanpour ," a weeknight world affairs program that Amanpour anchors. She also works as CNN's chief international correspondent.
2010
Amanpour moves to ABC News to become the moderator of " This Week ," the network's Sunday morning political affairs program.
2011
After leaving "This Week," Amanpour continues to work for ABC News as the global affairs anchor. She also works for CNN as an international correspondent.
2012
Amanpour revives her previous CNN International show, "Amanpour." The weeknight program features international news analysis and interviews, reaching a worldwide audience of more than 280 million.
Additional Information and References
Awards
1993, 1996 George Polk Award
1993, 1995, 1998, 2007 George Foster Peabody Award
1994 International Women's Media Foundation Courage in Journalism Award
1995 Society of Professional Journalists Fellow
2002 Edward R. Murrow Award
2002, Goldsmith Career Award for Excellence in Journalism, at Harvard's Kennedy School of Government
2005 International Emmy, International Academy of Television Arts and Sciences
Nine Emmy news/documentary awards
Major role in two DuPont awards given to CNN
Major role in a Golden Cable Ace award given to CNN
2008 National Press Club Fourth Estate Award
2011 Walter Cronkite Award for Excellence in Journalism
Sources
Interview with Charles Lewis in New York, Jan. 9, 2008.