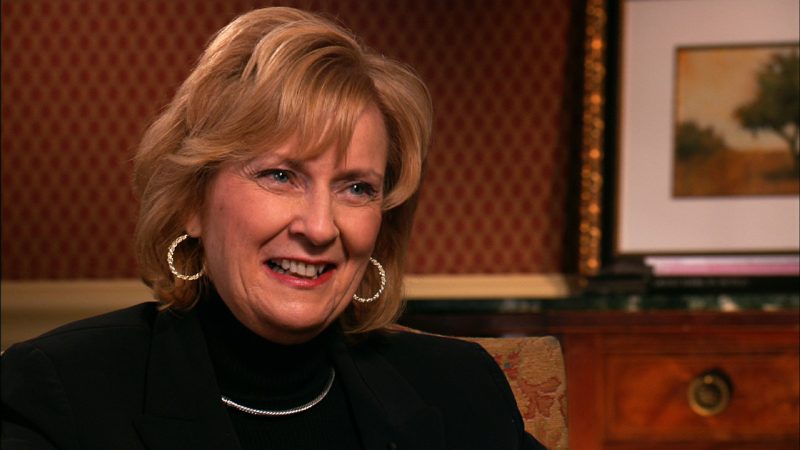 Florence Graves founded and edited Common Cause magazine, which won the National Magazine Award in 1987 and had the highest circulation of any American magazine regularly publishing investigative journalism before it ceased publication. Subsequently, she broke the story of sexual harassment by Sen. Bob Packwood, resulting in his censure and resignation. She is the founding director of the Schuster Institute for Investigative Journalism at Brandeis University.
Affiliations (past and present)
Topics
Videos
Florence Graves talks about how she and another colleague broke the story about Senator Robert Packwood's sexual misconduct that eventually resulted in the Senate Ethics Committee's unanimous vote to expel him from the Senate and his resignation shortly thereafter.
Tags
The following URL links directly to the video or page.
Copy and paste the code into your website to embed this video.
Florence Graves talks about the changes in news reporting and consumption.
Tags
The following URL links directly to the video or page.
Copy and paste the code into your website to embed this video.
Florence Graves talks about her work founding and editing the magazine that won two-dozen investigative journalism awards, including the National Magazine Award for General Excellence.
Tags
The following URL links directly to the video or page.
Copy and paste the code into your website to embed this video.
Career Timeline
1968
Attending the University of Texas at Austin, Graves is the editorial page editor of the student newspaper, The Daily Texan. She graduates with a bachelor's degree in education.
1969
After graduating, Graves works as an editorial assistant at the Texas State Teacher's Association magazine in Austin.  Moving around a lot, she spends some time in California and eventually moves to Fort Walton Beach, Fla., where she teaches journalism and English and supervises the newspaper and yearbook staffs at Choctawhatchee Senior High School.
1972
Moving to Tucson, Ariz., Graves teaches English at the largely Hispanic Pueblo High School and begins her master's degree in journalism at the University of Arizona.
1974
Graves gets a job as a reporter at a daily newspaper in Ohio called The Beavercreek Daily News.  At the paper, she covers a variety of topics including the courts, the police and the county commissioner.
1975
Returning to Arizona, Graves receives a master's degree in journalism from the University of Arizona.  While working on her degree, Graves is mentored by Jacqueline Sharkey, an award-winning investigative journalist who founded El Independiente, a bilingual newspaper in the Tucson area.  As part of her degree, Graves conducts a three-month investigation of a city program and uncovers evidence that the mayor has repeatedly misrepresented its budget to justify his city budget.
1977
Becoming managing editor of Tucson magazine, Graves also writes investigative pieces, specializing in political and behind-the-scenes reporting.  She reports and writes a special issue that focuses on the aftermath of the Investigative Reporters and Editors (IRE) in-depth series about pervasive organized crime in Arizona. The reporters organized the project after Arizona Daily Star reporter Don Bolles, who broke stories about organized crime in the state, was killed by a car bomb.  Many believed that someone connected to organized crime was responsible.  Graves's story includes information about corruption in the state uncovered by reporters for the "Arizona Project" that major Arizona newspapers refuse to publish.
1978
Moving to Washington, D.C., Graves works as a freelance editor and reporter for the Washington Journalism Review (which later became American Journalism Review). Graves reports an investigative story titled "The Mysterious Kennedy Outtakes: Is CBS Standing on First Amendment Principle Or Does CBS Have Something to Hide?"  The article reveals that CBS had hundreds of hours of videotaped interviews of numerous key witnesses during the tragedy (some of whom had since died) that might have aided the high profile House Assassinations Committee probe of President John F. Kennedy's murder.  The network refuses to let the committee look at any of the videotapes, claiming they are the equivalent of "reporters' notes." But Graves found there were serious questions about the network's real reasons for not sharing the work. The story was picked up by The Washington Post.
Later that year, Graves is hired as editor of Today Is Sunday, a publication created by Smith Bagley. Issues she writes and edits appear in The New York Times and the Houston Chronicle.
1980
Graves creates the award-winning Common Cause Magazine , a nonprofit investigative reporting magazine that was the largest political magazine in the country at that time. The magazine's investigations led to widespread media coverage and changes in laws and government policies.
1981
Graves becomes an associate professional lecturer at George Washington University where she teaches for six years.
1987
Moving to Boston, Graves becomes editor of the New Age Journal.  The magazine focuses on a holistic approach to health, personal growth and social change and establishes a reputation for groundbreaking [takeout research,]analysis and visionary thinking by writers such as Alice Walker, M. Scott Peck, Bill Moyers, Barbara Ehrenreich, and Michael Crichton writing about health, psychology, sociology, women's issues, politics and spirituality.
1989
For several years, Graves consulted, taught and developed a detailed business plan and editorial prospectus to launch a thoughtful national, women's magazine focused on political, social, and health issues and concerns of particular interest to women.  The magazine concept, which included investigative reporting focused on political, environmental and women's health issues, was highly praised by several venture capitalists, publishers and ad agency executives.  However, in the end, the consensus was that the idea would not attract sufficient big dollar advertising.
Graves was a consultant at Tufts University's Media and Communications department where [while there] she developed and implemented a series of symposia on "Ethics, Values and the Media."
1992
Graves develops and investigates the Senator Bob Packwood sexual misconduct story , which The Washington Post publishes. The articles lead to several precedents: the first time in history that more than one woman has gone on the record with complaints of sexual misconduct against a U.S. senator, the first time the Senate Ethics Committee had ever investigated such allegations and the first time the committee ever voted to recommend expulsion of a fellow senator. The articles led to a Supreme Court decision, Packwood's resignation and reforms in the way Congress handles congressional staffers' workplace complaints.
1994
In an article "The Other Woman," published in The Washington Post, Graves interviews more than 100 people, and the investigation revealed manipulation by members of the Senate Judiciary Committee to keep Angela Wright, a former employee of Clarence Thomas, from testifying at Thomas' controversial Supreme Court nomination hearings. Wright had information that could have supported Anita Hill's allegations of sexual harassment and potentially derailed Thomas' nomination.
Graves is awarded a fellowship at the Institute of Politics in the Kennedy School at Harvard University.
1995
Graves receives a two-year fellowship at the Radcliffe Public Policy Institute , where she conducts research on the gender power imbalance in Washington politics and the media.
1996
She also becomes a resident scholar at the Brandeis University Women's Studies Research Center , where she continues to serve. Her research and writing focus on the intersection of sex, gender and power and how that dynamic affects public policy and media coverage.
1998
In a cover story for the American Journalism Review, Graves exposed independent counsel Kenneth Starr's potential attacks on the First Amendment by subpoenaing journalists to testify, questioning if his tactics were consistent with the guidelines set by the Justice Department.
1999
In a year-long Nation magazine investigation , Graves uncovered that Kathleen Willey, who had accused President Clinton of sexual harassment, had, in fact, sought an affair with the president and that Willey had lied to Starr's own investigators, a fact he tried to keep secret. The article uncovered major evidence that raised questions about Starr's decisions to rely on Willey and to indict Julia Hiatt Steele, Willey's former friend who would not corroborate her story.
2004
Graves founds the Schuster Institute for Investigative Journalism at Brandeis University where she still serves as its director. The institute, the first of its kind based at a university, focuses on three major projects: the Political & Social Justice Project, the Gender & Justice Project, and the Justice Brandeis Innocence Project. The Innocence Project investigates cases in which inmates appear to have been wrongfully convicted but in which there is no DNA to test—the most difficult cases by far.
2006
Graves is the lead reporter in a collaborative, front page story between the Schuster Institute and The Washington Post. The investigation probes the Federal Aviation Administration's failure to investigate allegations that unapproved manufactured parts were installed on airplanes. The FAA is required by federal regulation to investigate these allegations.
2008
In an article for the Nieman Foundation for Journalism at Harvard, Graves writes that investigative journalism needs more funding and dogged reporters to fulfill journalism's government watchdog role.
2011
Graves is named a Journalist Law School fellow at Loyola Law School in Los Angeles. Joining 35 other professional journalists, Graves learns more about the court system, how to navigate it and how to better understand decisions by the court.
Additional Information and References
Addtional Information and References
Awards
1984 IRE Magazine Award
1987 National Magazine Award for General Excellence
2007 Cushing Niles Dolbeare Media Award
2008 Clarion Award for Newspaper Feature Story
Sources