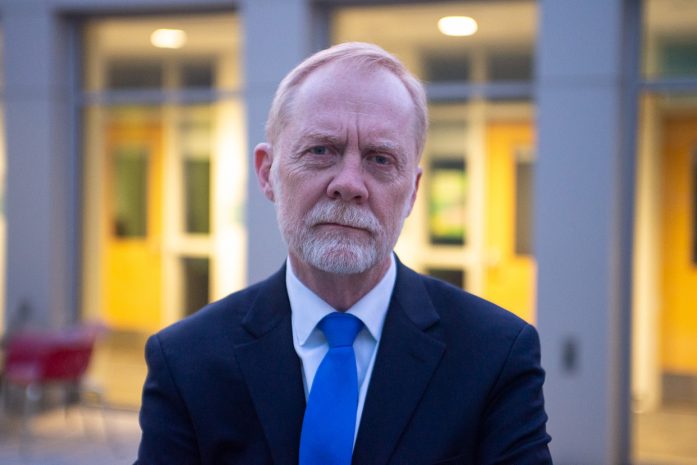 In more than three decades as a reporter at the Clarion-Ledger in Jackson, Mississippi, Jerry Mitchell's stories helped put four Ku Klux Klan members and a suspected serial killer behind bars decades after they committed their crimes. His reporting has exposed killers who had long escaped prosecution, with authorities citing insufficient evidence, in cases including the killings of civil rights activists in the 1960s and the longest-delayed conviction in a serial killer case in U.S. history. His stories have also exposed corruption in state agencies and helped lead to the release of two prisoners from death row. In 2018, after 32 years at the Clarion-Ledger, Mitchell co-founded the Mississippi Center for Investigative Reporting, where he now serves as director.
Affiliations (past and present)
Topics
Videos
Charles Lewis talks with journalist Jerry Mitchell about his investigation and reporting on Edgar Ray "Preacher" Killen.
The following URL links directly to the video or page.
Copy and paste the code into your website to embed this video.
Journalist Jerry Mitchell talks to Charles Lewis about his response to the threats he has faced while investigating major civil rights cases.
The following URL links directly to the video or page.
Copy and paste the code into your website to embed this video.
Charles Lewis interviews journalist Jerry Mitchell about how his reporting on Bobby Cherry brought the ex-Klansman to justice for the bombing of the 16th Street Baptist Church in Birmingham, Alabama.
The following URL links directly to the video or page.
Copy and paste the code into your website to embed this video.
Career Timeline
1982
Mitchell, who was already working at the Arkansas Democrat, receives his journalism degree from Harding University in Arkansas.
1983
He began working at the Hot Springs Sentinel-Record in Arkansas, working as the newspaper's investigative reporter for three years.
1986
Mitchell arrives — "young, enthusiastic and clueless," as he would later write — at the Clarion-Ledger in Jackson, Mississippi, as a bureau reporter for northeast Mississippi.
1989
While working as a court reporter at the Clarion-Ledger, Mitchell is inspired by the film Mississippi Burning to look into killings in the civil rights era that had gone unpunished. He eventually uncovers how the state secretly provided legal assistance to the killer of Mississippi NAACP field secretary Medgar Evers, Byron De La Beckwith, trying to get him acquitted.
1994
Byron De La Beckwith is convicted of the murder of Medgar Evers, 30 years after his first two trials had ended in hung juries, following Mitchell's reporting on the case.
1997
Mitchell receives an M.A. in journalism from Ohio State University, where he attended the Kiplinger Reporting Program.
1998
Samuel Bowers, the former leader of the Mississippi White Knights of the Ku Klux Klan, is convicted of planning the 1966 firebombing that killed Vernon Dahmer, a native Mississippian who had helped fellow African Americans register to vote. Bowers' four previous trials had resulted in hung juries until Mitchell's reporting helped lead to the successful prosecution of Bowers.
2002
Another long-unpunished Klansman, Bobby Cherry, is convicted of four counts of murder for his role in the 1963 bombing of the 16th Street Baptist Church in Birmingham, Alabama, that killed four young black girls. The judge gives Cherry four life sentences — one for each one of the girls. Mitchell's reporting uncovers that Cherry's alibi for the night the bomb was planted was a lie. There was no televised wrestling for Cherry to watch.
2004
Mitchell writes about a rare genetic disease in his family that killed his grandfather and all his siblings. The 10-chapter series, "Genetic Disaster," follows Mitchell on his journey to learn whether he suffers from the devastating disease or not.
2005
Mitchell's reporting results in another long-delayed conviction, this time of Edgar Ray Killen for the 1964 killing of three young civil rights workers who were helping African Americans register to vote during "Freedom Summer."
2006
Clyde Kennard, who attempted to become the first black student to attend what is now the University of Southern Mississippi, is finally exonerated after Mitchell tracks down the main prosecution witness, who admits that Kennard did no wrong.
2007
Under the direction of Assistant Managing Editor Debbie Skipper, stories by Mitchell and other reporters for The Clarion-Ledger expose how the Mississippi Department of Health fired water inspectors and failed to report disease outbreaks. In response to that reporting, lawmakers fire the Health Department head and throw out the entire State Board of Health.
2012
The Clarion-Ledger publishes Mitchell's nearly 9,000-word investigative narrative into the case of suspected serial killer Felix Vail, a suspected serial killer who had gone unpunished after the death of his first wife and unexplained disappearances of his subsequent girlfriend and wife.
2014
Under Skipper's oversight, Mitchell and other Clarion-Ledger reporters investigate Mississippi's corrections system, exposing corruption and abuse behind bars. Not long after the series finishes, the head of the Mississippi Department of Corrections is indicted for corruption, going to prison for 20 years.
2015
Michelle Byrom, who would have been the first woman executed on Mississippi's death row in more than 70 years, is freed from prison following the reporting of Mitchell and others into her conviction.
2016
Vail is convicted of the murder of his first wife. The judge allows the prosecution to use an unusual legal strategy that let jurors hear testimony about the disappearances of Vail's other partners, detailed in Mitchell's reporting. At his sentencing hearing, Vail blames Mitchell for his conviction. The judge sentences Vail to life — almost 54 years to the day of when he murdered his first wife.
2018
Mitchell's reporting leads to a judge releasing Jeffrey Havard from Mississippi's death row. Mitchell's stories had revealed the pathologist in the case, Dr. Steven Hayne, reversed himself in the cause of death. In his original autopsy, Hayne attributed the infant's death to "shaken baby syndrome." Now Hayne says that wasn't true. Havard's death sentence had rested on the claim the infant was sexually abused. Now Hayne says there was no sexual abuse.
2018
Mitchell founds the Mississippi Center for Investigative Reporting with Ian Isaacs. Debbie Skipper is serving as editor for the nonprofit, which Mitchell wrote "will seek to expose dark deeds, hold public officials accountable for their actions as well as provide practical and workable solutions for the public."
Additional Information and References
Awards
MacArthur Foundation "Genius Grant" (2009)
George Polk Award (2006, 2008)
Finalist, Pulitzer Prize in Beat Reporting (2006)
Sigma Delta Chi Award for Public Service (1999)
American Board of Trial Advocates Journalist of the Year award (2006)
Toni House Journalism Award (2006)
Tom Renner Award for Crime Reporting from Investigative Reporters and Editors (2006)
Heywood Broun Award (1999)
Sidney Hillman Award (1999)
The American Legion's Fourth Estate Award (1999, 2017)
The National Association of Black Journalists' Award for Enterprise Reporting (1999)
The Abraham Lincoln Marovitz Award (1998)
The Inland Press Association Award (1999)
John Peter and Anna Catherine Zenger Award for Freedom of the Press (2007)
Vernon Jarrett Award for Investigative Reporting (2006)
Medgar Evers Justice Award (2013)
Columbia Journalism School Citation for Coverage of Race & Ethnicity (1998)
Gannett's Outstanding Achievement by an Individual Award, Best Investigative Reporting Award and Best In-Depth Reporting Award (1999, 2006)
Gannett's William Ringle Outstanding Achievement Career Award (1999)
Gannett's top 10 journalists in the company over the past quarter century (2002)
University of Mississippi Silver Em Award (2000)
Columbia University's John Chancellor Award for Excellence in Journalism (2005)
Elijah Parish Lovejoy Journalism Award and honorary doctorate, Colby College (2006)
Associated Press' Outstanding Writing Award (1999)
Our Mississippi Honors Lifetime Achievement Award (2019)
McGill Medal for Journalistic Courage from the Grady College of Journalism and Mass Communication, the University of Georgia (2009)
Honored at the Kennedy Center by the Anti-Defamation League (1998)
Richard Wright Award for Literary Excellence (2016)
Editors Judith and William Serrin feature Mitchell's work in their anthology of the nation's best journalism over the past three centuries, Muckraking! The Journalism That Changed America. (2002)
Sources
Interview with Charles Lewis in [location], [date], 2019