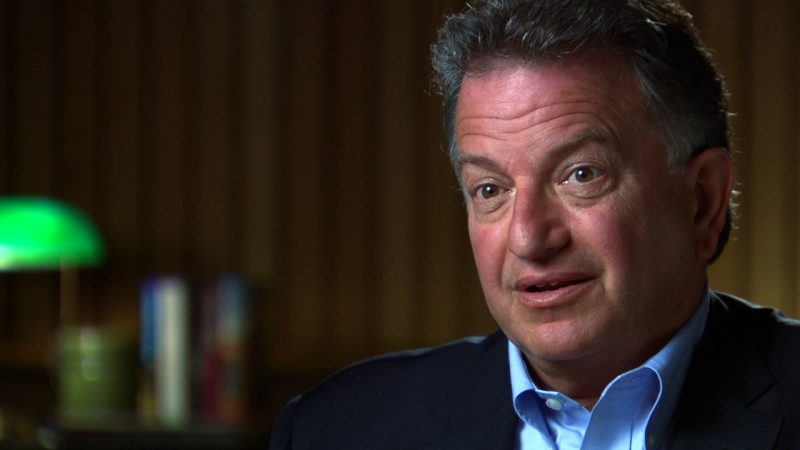 A former "60 Minutes" producer, Lowell Bergman has been a reporter and producer for more than 30 years. The co-founder of the Center for Investigative Reporting, Bergman has reported on subjects as disparate as international arms dealing, Hezbollah and the California prison system. He is best known for CBS's censorship of his tobacco story, a saga that was the inspiration for the movie "The Insider."
Affiliations (past and present)
Topics
Videos
Lowell Bergman learned that Westinghouse, the parent company of CBS News, was more interested in protecting the company's assets than in airing a controversial story that he produced for "60 Minutes" about a tobacco company.
Tags
The following URL links directly to the video or page.
Copy and paste the code into your website to embed this video.
Career Timeline
1963
While growing up, Bergman helps his brother deliver newspapers and eventually gets a job as an apprentice typographer on 45th Street, across from The Daily Mirror. Bergman is politically active in high school, joining the anti-war movement and the "Ban the Bomb" movement.
Bergman graduates from high school and attends the University of Wisconsin, Madison, on a scholarship.
1964
During the summer, Bergman becomes involved with the Student Nonviolent Coordinating Committee working on civil rights issues in the South. He makes several trips to the South assisting in the planning of what would become Freedom Summer.
While at Wisconsin, Bergman works for history and sociology professors and takes great interest in learning and challenging prevailing ideas and theories. One professor he works for, Hans Gerth, urges him to attend the University of California, San Diego, and study with Herbert Marcuse , a German philosopher.
1966
Bergman graduates from Wisconsin and receives a graduate fellowship at University of California, San Diego, studying Marxist theory with Marcuse.
1969
Bergman joins a group of fellow students putting out an alternative newspaper, the San Diego Free Press. Among other topics, he writes a series of stories about local corruption. A group of vigilantes blows up Bergman's car.
1971
Bergman moves to the San Francisco Bay area and contributes to Ramparts and the San Francisco Examiner. He becomes associate editor for Rolling Stone in San Francisco, but does not move with the magazine when it relocates to New York in 1976.
1976
Prior to leaving Rolling Stone, Bergman works as part of a collaborative team of reporters and editors who travel to Phoenix to investigate the killing of Don Bolles , an investigative reporter who was targeted by organized crime figures for investigating their activities. The Arizona Project , organized by the fledgling Investigative Reporters and Editors, and consisting of volunteers from 23 news organizations, produces 40 articles on corruption in Arizona.
1978
Accepting a job at ABC News, Bergman works as a producer, reporter and director of investigative reporting. He is one of the first producers of the television newsmagazine program "20/20."
1983
After five years at ABC, Bergman moves to CBS News as a producer for "60 Minutes." During his 14 years at CBS, Bergman produces more than 50 stories on topics ranging from organized crime to international arms dealing, drug trafficking, the Iran-Iraq War and the Gulf War.
1991
Bergman begins teaching seminars on investigative reporting at the University of California Berkeley's Graduate School of Journalism. Many of the class investigations result in significant multimedia stories.
1995
CBS refuses to broadcast a story that Bergman reported and produced about whistleblower Jeffrey Wigand, a former vice president of research and development at Brown & Williamson, regarding attempts by it and other tobacco companies to create more addictive forms of nicotine. It is the first publicly known time that "60 Minutes" had been blocked from broadcasting a story by the network's corporate management, and the censorship causes a public uproar. Eventually, a watered-down version of Bergman's segment airs on "60 Minutes," presented by senior correspondent Mike Wallace.
Bergman quits his staff position at CBS News and accuses the network of succumbing to the pressure of the tobacco companies. Marie Brenner chronicles the saga for Vanity Fair in May 1996. The article becomes the basis for " The Insider ," a 1999 movie directed by Michael Mann that receives seven Academy Award nominations, including "Best Picture" and a "Best Actor" nomination for Russell Crowe as Wigand. Al Pacino portrays Bergman, who serves as a consultant on the film.
1998
Bergman forms a partnership with The New York Times and PBS's "Frontline," using his students as researchers for multimedia investigative stories.
After a terrorist attack on the U.S. Embassy in Nairobi, Bergman reports and produces " Hunting bin Laden ," a documentary for "Frontline" that looks at the reasons behind the bombing. The report is updated in 2001 after the Sept. 11 attacks.
2000
Working with a team of researchers, Bergman leads a series for The New York Times on the financial agreements between Dick Cheney and Halliburton before and after his retirement as CEO of the company and his reemergence in politics as George W. Bush's vice presidential nominee.
2001
Looking at more than 30 years of the war on drugs and conducting interviews with both drug traffickers and the government officials who hunt them, Bergman's "Frontline" team, in collaboration with NPR, produces the Peabody Award-winning series "Drug Wars."
2002
Bergman reports on international weapons dealers for "Frontline." "Gunrunners" covers the impact of small arms as one of the major contributors to killings in the world.
2003
In another multimedia presentation, "A Dangerous Business," Bergman and David Barstow examine workplace safety laws through the safety and environmental practices of McWane Inc., a piping corporation. The story is simultaneously released on "Frontline," in The New York Times and as a program on the Canadian Broadcasting Corporation. The collaborative story wins the Pulitzer Prize , the George Polk Award and the George Foster Peabody Award.
2005
In "The Curse of Inca Gold," Bergman travels to Peru and reports on the U.S.-based Newmont Mining Corp. and its activities surrounding the Yanacocha gold mine in the Andes Mountains.
2006
Bergman is named the Reva and David Logan Distinguished Professor of Investigative Journalism at the University of California at Berkeley.
2007
Bergman produces a four-part series called "News War" for "Frontline." He interviews more than 50 prominent journalists and discusses the role of the media in society and the future of the industry.
2008
Also for "Frontline," Berman investigates the business of human smuggling across the U.S.-Mexican border and the conflicting angles of smugglers and law enforcement officials in "Mexico: Crimes at the Border."
Bergman discontinues his partnership with The New York Times.
2012
Bergman teaches investigative reporting for print and television at Berkeley while continuing to produce and report for "Frontline."
Additional Information and References
Awards
1993 George Foster Peabody Award
2001 George Foster Peabody Award
2003 George Polk Award
2004 George Foster Peabody Award
2004 Pulitzer Prize for Public Service Journalism, awarded to The New York Times
Five duPont-Columbia University silver or golden Baton awards
Numerous Emmy Awards
Sources
Doyle, Jim. "The Questioning Man" San Francisco Chronicle, Nov. 15, 2002
Interview with Charles Lewis in Berkeley, Calif., on June 19, 2007.