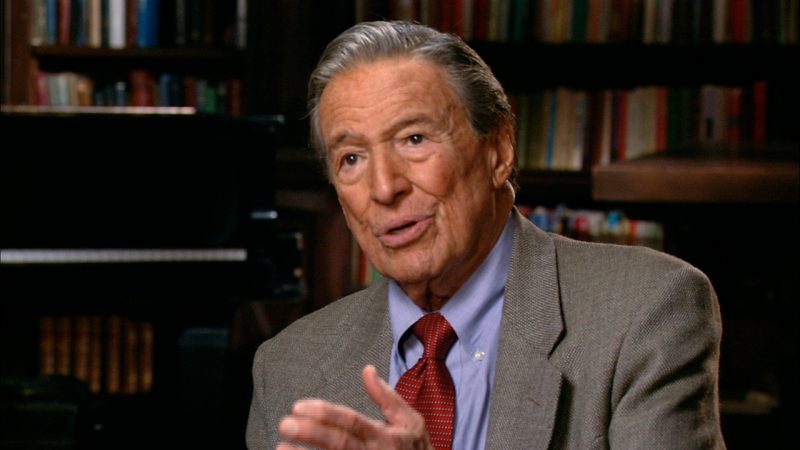 As a correspondent for CBS's "60 Minutes" for 40 years, Mike Wallace was known for his tough interviewing style and investigative reports. Wallace started his career in entertainment broadcasting but focused on journalism upon joining CBS in 1963. He interviewed world leaders, artists and entertainers, and celebrities ranging from Iran's Ayatollah Khomeini to Henry Kissinger, Salvador Dali and Roger Clemens. He died on April 7, 2012, at the age of 93.
Affiliations (past and present)
Topics
Videos
Mike Wallace remembers his unexpected friendship with former Vice President Richard Nixon on the way to his 1968 election as president and his decision to become a "60 Minutes" correspondent instead of possibly joining the Nixon administration.
Tags
The following URL links directly to the video or page.
Copy and paste the code into your website to embed this video.
Mike Wallace talks about his exclusive interview in 1979 with Iran's Ayatollah Ruhollah Khomeini.
Tags
The following URL links directly to the video or page.
Copy and paste the code into your website to embed this video.
Career Timeline
1939
Graduating with a bachelor's degree from the University of Michigan, Myron Leon Wallace enters the burgeoning field of broadcasting as a newscaster, announcer and writer for WOOD-WASH Radio in Grand Rapids, Mich.
1940
Moving to Detroit, Wallace is a newscaster, narrator and sometimes actor for many of the programs broadcast for WXYZ Radio. The programs include "The Lone Ranger," "The Green Hornet" and "Cunningham News Ace."
1941
Wallace moves from job to job exploring various freelance positions including being a news radio announcer for the Chicago Sun's "Air Edition."
1943
Joining the U.S. Navy, Wallace trains as a naval communications officer and is stationed in the Pacific for three years.
1946
After his discharge from the Navy, Wallace rejoins Chicago Sun's "Air Edition" while continuing with various freelance jobs in radio, commercials and entertainment programming.
1950
On WMAQ, a Chicago NBC affiliate, Wallace starts his first interview program, called "Famous Names." He interviews Buff Cobb and soon after she becomes his first wife. The duo start a radio program, which later becomes the television show, "Mike and Buff."
1954
Wallace stars in a Broadway comedy called "Reclining Figure."
1955
Joining producer Ted Yates, Wallace becomes a news anchor and interviewer on "Night Beat" in New York. It starts by airing twice a night; the following year, in order to conduct more hard-hitting interviews, it transitions to one nightly program.
1957
Wanting Wallace's team to join the network, ABC offers "Night Beat" the chance to have a national audience in prime time. Although initially hesitating, Wallace accepts the offer, and the show is renamed "The Mike Wallace Interview." Typical of the edgy editorial style introduced by Wallace to the relatively new genre of television is a show he does about Margaret Sanger , leader of the birth control movement in America.
1960
After "The Mike Wallace Interview" ends, Wallace takes on various jobs including narrating and conducting interviews for a program called "The Race for Space." The award-winning show is a success and leads to a popular, 65-show broadcast series, "Biography," presented by Wallace.
1962
On special assignment for the Westinghouse broadcasting chain, Wallace travels around the world—Tokyo, Taipei, Hong Kong, Saigon, New Delhi, Cairo, Nairobi and London—producing and delivering a series of radio reports.
1963
After the accidental death of his son, Peter, Wallace makes a career decision to concentrate all of his energies on serious journalism. After traveling around the world, he returns to CBS and soon becomes a full-time correspondent. Wallace also anchors the morning news report, "The CBS Morning News with Mike Wallace."
1967
Wallace covers the Vietnam War several times over the next four years. He also reports on Richard Nixon's 1968 presidential campaign.
1968
Turning down a position on Nixon's campaign staff as press secretary, Wallace accepts an offer from veteran CBS executive producer and director Don Hewitt to anchor (initially with Harry Reasoner) a new primetime magazine broadcast, "60 Minutes." Wallace remains a full-time correspondent with the show until 2006.
1979
Wallace interviews the Iranian leader Ayatollah Khomeini, using his trademark "forgive me" to ask his reaction to being called a lunatic by Egyptian President Anwar Sadat.
1982
In a "CBS Reports" 90-minute documentary, " The Uncounted Enemy: A Vietnam Deception ," correspondent Wallace interviews U.S. Army Gen. William C. Westmoreland. He confronts the general with comments from officers under his command in regard to how the Pentagon falsified intelligence estimates of the enemy's strength and withheld information from Washington and the press. The report results in a $120 million lawsuit by Westmoreland, which lasts nearly three years until CBS issues an apology and the case is dropped.
1984
Wallace writes his first memoir, "Close Encounters," with Gary Paul Gates.
1989
The Chicago Museum of Broadcast Communications honors Wallace for his lifetime contribution to radio and television.
1990
CBS News presents a one-hour special, "Mike Wallace Then and Now," which highlights important interviews conducted by Wallace, looking back through 50 years of his career.
1991
Wallace is inducted into the Television Academy Hall of Fame and receives the Paul White Award, the highest distinction from the Radio/Television News Directors Association.
1993
The International Radio and Television Society names Wallace the Broadcaster of the Year.
1996
CBS refuses to broadcast a story prepared by Wallace and his producer, Lowell Bergman, about whistleblower Jeffrey Wigand, a former vice president of research and development at the Brown & Williamson, regarding attempts by it and other tobacco companies to create more addictive forms of nicotine. CBS's censorship of an investigative news story causes a public uproar. Wallace does not initially protest the network's internal censorship of the story, then joins Bergman later in opposing the corporate action. Eventually, a watered-down version of the segment airs on "60 Minutes."
1998
For an exclusive interview with Kofi Annan, Wallace accompanies the then U.N. secretary-general to negotiations with Iraqi President Saddam Hussein in which Annan successfully averts a U.S.-led invasion of Iraq. During these negotiations, Annan persuades Hussein to stop restricting inspections of eight suspected weapons sites.
Wallace sparks controversy over his interview with Dr. Jack Kevorkian . "Dr. Death" gives "60 Minutes" footage in which he injects a patient with lethal drugs. Kevorkian is eventually convicted of second-degree murder.
2000
In a controversial conversation, Wallace interviews Louis Farrakhan and Atallah Shabazz, Malcolm X's eldest daughter, who accuses Farrakhan of having an indirect influence on her father's death. During the exchange, Farrakhan concedes that his words may have motivated the assassination.
2003
Wallace receives a Lifetime Achievement Emmy.
2005
Wallace's second memoir, "Between You and Me," co-authored with Gary Paul Gates, is published.
He also interviews baseball player Jose Canseco , who admits to taking performance-enhancing drugs.
2006
After 38 years, Wallace retires as a full-time correspondent for "60 Minutes," announcing that he will become a correspondent emeritus, occasionally interviewing people for the broadcast.
With the Bush administration refusing to hold any diplomatic talks with Iran, Wallace returns to the airwaves to interview Iranian President Mahmoud Ahmadinejad. They discuss his views on U.S. involvement and policies in the Middle East, Iran's efforts to become a nuclear power and Ahmadinejad's public avowal to destroy Israel. The interview wins Wallace his 21st Emmy.
2007
Wallace is the first person to interview Jack Kevorkian upon his release from prison.
2008
Wallace edits the book "The Way We Will Be 50 Years from Today: 60 of the World's Greatest Minds Share Their Visions of the Next Half-Century."
Roger Clemens talks with Wallace in his first interview after the Mitchell Report on drug use in Major League Baseball accuses the award-winning pitcher of using steroids.
2010
With co-author Beth Knobel, Wallace writes the book "Heat and Light: Advice for the Next Generation of Journalists."
2012
Wallace dies on April 7 at the age of 93 in a care facility in New Canaan, Conn.
Additional Information and References
Awards
21 Emmy Awards
5 George Foster Peabody Awards
5 Alfred DuPont-Columbia University Awards
1975 Society of Professional Journalists Fellow
1991 Paul White Award
1996 Robert F. Kennedy Journalism Award
2002 Fred Friendly First Amendment Award
Books
"Mike Wallace Asks: Highlights from 46 Controversial Interviews." New York: Simon & Schuster, 1958.
"Close Encounters" (with Gary Paul Gates). New York: Morrow, 1984.
"Between You and Me" (with Gary Paul Gates). New York: Hyperion, 2005.
"The Way We Will Be 50 Years from Today: 60 of the World's Greatest Minds Share Their Visions of the Next Half-Century" (editor). Nashville, Tenn.: Thomas Nelson, 2008.
"Heat and Light: Advice for the Next Generation of Journalists" (with Beth Knobel). New York: Three Rivers Press, 2010.
Sources